Celebrating 22 Years of Innovation, Growth, and Results
For over 22 years, Axiom has empowered leading edge small and mid-sized life science organizations worldwide with the Fusion eClinical Suite, which delivers single sign-on and global information awareness to data-driven studies.
Let's change the paradigm of how clinical studies are conducted.

22 Years of Innovation
Axiom is constantly innovating to support the unique and complex needs of our Clients. Over the past 22 years, we have introduced over 15 powerful and fully integrated modules to our Fusion eClinical Suite, and expanded our services to include support for Data Management, BioStats, and Pharmacovigilance.
22nd Anniversary Press Release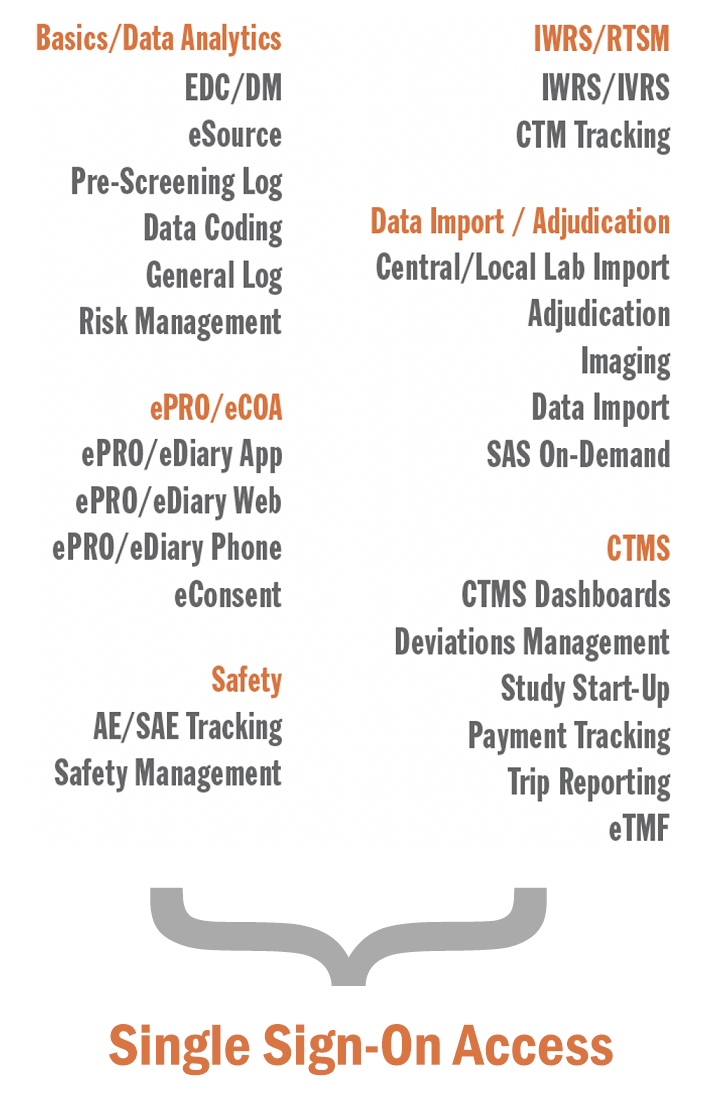 This is Axiom's philosophy:
Know more. Know it sooner. Act faster.

22 Years of Growth
In 22 years, the Axiom Team has grown to a global community of over 325 professionals dedicated to the success of our Clients' studies worldwide.
Learn about Axiom's global reach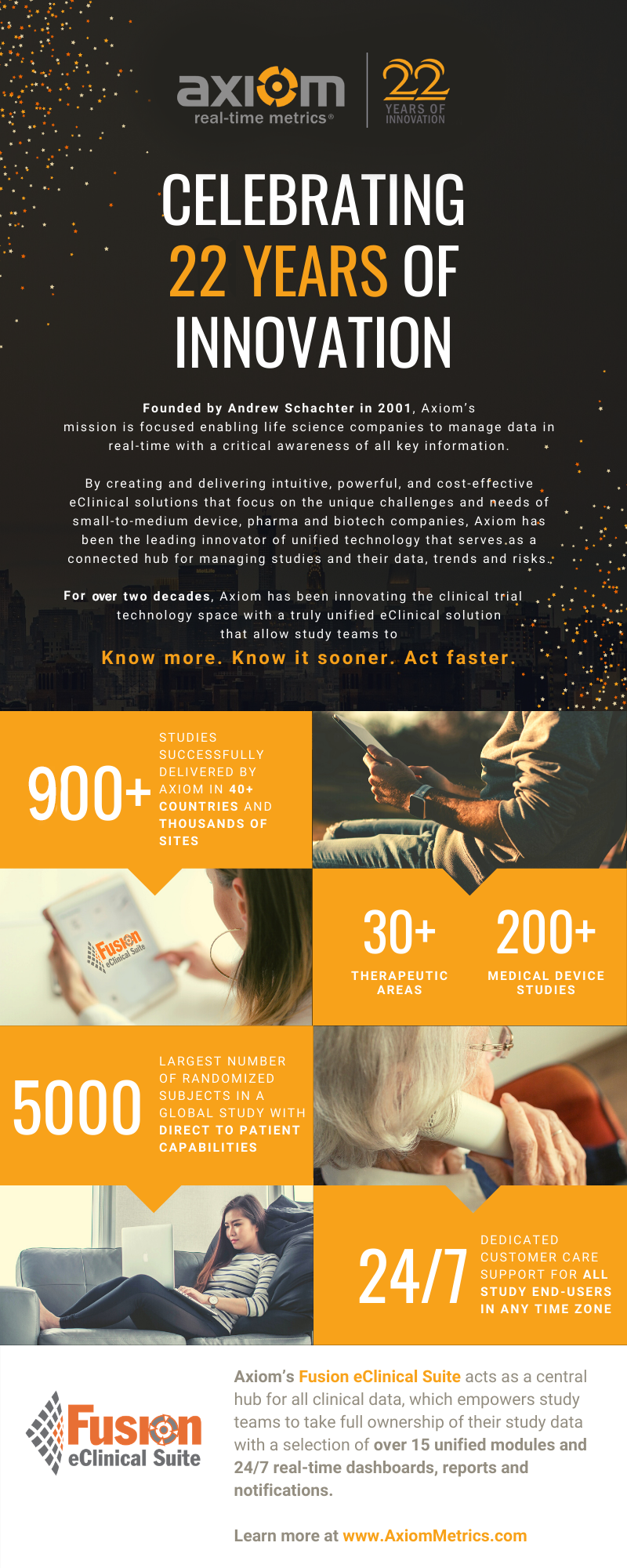 Axiom was founded in 2001 by Andrew Schachter and has steadily expanded since its inception. Profitable since its second year, Axiom has been smart about when and where it moved forward.
The company was launched with a focus on registries and working with global clients. By 2003, the technology had evolved to a full registry and EDC offering with clients from start-ups to big pharma. In 2006, the business was pivoted to focus exclusively on small-to-mid size life sciences companies on the leading edge of their disciplines, delivering powerful eClinical tools [EDC, DM, IWRS, Reporting] and Data Management professional services to meet their unique requirements.
Andrew has led Axiom in developing and delivering Fusion, a fully unified eClinical offering completely engineered in-house which now includes 15 powerful optional modules. The professional services aspect of the company now includes Data Management, BioStats and Pharmacovigilance services.
Maintaining a close relationship with clients is key for Axiom, as is assuring exemplary service and maintaining the ability to respond quickly to new and emerging needs. Axiom's innovative and expert team ensures the delivery of best in class products and services.
How we support Biotech and Pharma studies
How we support Devices and Diagnostics studies
Axiom's #WomenInResearch Spotlight
We want to enable our Clients to make smarter decisions, faster. Because we know that when our clients succeed, the world benefits.

22 Years of Results
We have successfully helped our Clients deliver 900+ drug and device studies all over the world, in over 30 therapeutic areas, for studies ranging from single-Site to global registration trials.
Our highly accomplished leadership team are active thought leaders within the industry, presenting featured webinars at key events and sharing learnings with our peers.
Learn more about our industry expertise
Work with an innovative partner for your next study!
---
Fill out our demo request form below, or visit our 
Contact page
 for more options to reach us!
Sign up for our monthly Fusion Newsletter today! Get updates on:
+ The latest Fusion features and upgrades
+ Upcoming industry events and company news
+ Early access to our latest white papers, case studies and webinars