Six key advantages of a unified, robust modular system over separate systems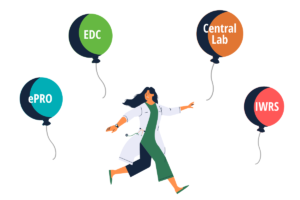 Do you find yourself chasing down your own clinical study data and trying to reconcile them between multiple, separate vendors and systems?
Managing studies should not mean manually pulling together critical data every week.
The time should be dedicated to making the right decisions based upon critical available information. 
A robust and truly unified e-clinical platform, such as the Fusion eClinical Suite™, enables effective collaboration and accelerated decision-making through real-time actionable data. Learn how you can empower your organization with data-driven studies that deliver faster and smarter results, and help get products to market much sooner.
Advantage 1: 24/7 access to all study, operational and management data
When critical modules for your study, such as EDC, ePRO, and RTSM/IWRS, live on separate systems, access to crucial data can be delayed, making data review and critical responses to events so much more challenging.
Unified data on a single platform means all your data and study information is accessible anytime, empowering managers from all facets of the study to know more, know it sooner and act faster. Fusion's centralized, real-time dashboards, project and clinical reports can enable your study team to accelerate their decision-making on critical factors including patient enrolment, compliance, management of clinical trial material supply, and responses to safety events.
Advantage 2: Real-time awareness of all work being performed in your study by all parties
Separate systems also mean additional burdens on all members of the study team to access, reconciliate, and compile reports across multiple platforms. The time spent on these extra steps can mean critical delays in addressing and communicating the most current status of activities across your study.
A unified platform such as Fusion offers features and functionality that consider every member of the study team, dramatically changing how studies operate. Teams such as data management, clinical operations, sites, safety, drug supply, and others, can all benefit from single sign-on access to dashboards that reflect real-time data and reports on past, current, and upcoming work being performed in your study. Real-time notifications also ensure that key teams are alerted quickly to important milestones and events that require immediate responses and action.
Advantage 3: Faster start-up and reduced time to end of study
On separate systems, study start-up can often take four to six months to make time for coordinating schedules with multiple vendors and working out integration requirements. A single vendor delay can seriously impact an entire study timeline, especially for trials on a global scale. Study close-outs can also be delayed if your team is spending valuable time on manual tracking and reconciliation of data between modules on separate systems.
When working with a single, powerful, unified platform for critical modules, there are fewer vendors to coordinate and mobilize. Fusion's rapid study start-up process means time to first person in can be reduced to 30 – 60 days if all your study modules are already integrated and deployed by a single vendor. Real-time data syncing across unified modules also means eliminating manual work required and faster study close-outs.
Advantage 4: Automating key tasks and study-wide notifications
Manual tasks are not only time-consuming but also prone to human error. Key tasks such as keeping track of CTM supply and managing cohort assignments may require constant manual monitoring of notifications and comparing statuses across modules.
A unified system inherently supports study-wide data integration, and therefore notifications informed by shared data across modules and automated tasks, triggered by alerts in real-time. One example of multiple key modules working together seamlessly is Fusion's AI-driven Inventory Auto Resupply feature. Bringing together data from RTSM/IWRS, CTM tracking and ePRO modules, Fusion is able to accurately capture each site's current inventory, including materials in transit and pending site receipt, upcoming expiries, and accountability or returns. Inventory thresholds set at a site level are then adjusted in real-time for buffer and safety stock, and the AI will predict upcoming resupply needs based on historical and scheduled activity. Aside from setting thresholds at study start-up, everything is executed and documented automatically.
Advantage 5: Reduce the risks across your study
When your study faces new challenges or requirements presented by evolving circumstances, another benefit of a unified platform is the elimination of the risks associated with creating data pipes between different systems. In addition, every time you merge data across different systems, you introduce a new set of risks in the validation of the integrations.
Advantage 6: Lower costs and reduction in team resources required
Working with multiple systems is not only complicated from a budgeting perspective, with multiple vendors and contracts, but also in terms of tasking for study teams who must learn how to use the systems themselves. Your team will likely need to log on to multiple systems on a regular basis to download reports and monitor activities. Duplicate data entry for non-integrated data points can also be a time-consuming task. Payment management in clinical studies is a great example of where hundreds of hours are spent managing manual reconciliation between different systems just to pay sites what they are owed. Imagine the possibilities of eliminating payment reconciliations in your studies. How many hours would that save your teams?
A fully unified platform eliminates data integration costs and reduces the resources needed from your study team to juggle multiple log-ons and reconciliate data. Along with giving all project stakeholders real-time custom-level access to your study data, Fusion's end-users are all supported by the same customer care team who have in-depth knowledge of all modules on the platform, as well as your entire study setup. In the long term, your team can also reuse Fusion study configurations for future projects.
Ready to empower your team with a unified platform?
For small-to-medium life science organizations, time and money are both critical resources. Timely access to quality data has always been the key to a truly successful study and a unified platform can give you some key advantages over juggling separate systems. If your study is still on separate systems, it is not too late to consider shifting to a unified platform.
Celebrating 20 years of innovation, growth and results, the Axiom Team knows how critical intuitive, cost-effective, and unified e-clinical solutions are for small-to-medium life sciences companies. We are here to empower you to strategically manage your studies with fewer resources, a smaller team, and tighter budgets.
Learn more about why Axiom and the Fusion eClinical Suite is the partner of choice of your next study!
Schedule Your Demo Today!