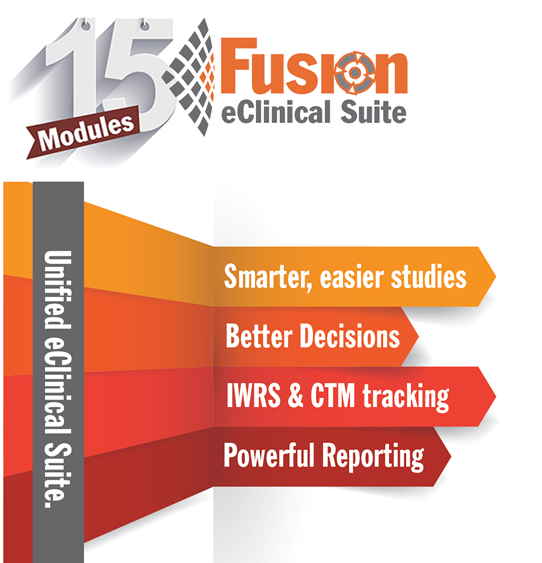 Advances in unified eClinical technology offers features and functionality that, when effectively designed, provide key benefits to every member of the study team, dramatically changing how studies operate.
We've highlighted some key overall benefits, as well as benefits by role, below.
Overall Benefits
Greater overall real-time project visibility across entire study
With real-time visibility into your study data and site activities, your team has the ability to make course corrections or adjustments sooner – for a more informed study.

Enhanced process for monitoring and study management
Automation of routine study tasks
A unified eClinical Suite reduces both the financial and task footprint across all roles within the study. No longer taxed by extensive manual processes, study teams are able to do more and manage additional, or larger studies with fewer resources.

Automated tasks also greatly reduce the likelihood of manual errors.
Cost savings, better value for investment
A unified platform is an investment that will see overall study costs trend lower over time, and freeing up team resources who are less burdened with manual processes and management of multiple tools and vendors.

Reusability of your study designs or components leads directly to multi-study savings when a single vendor with a full suite of capabilities is selected for all future studies.
No integration requirements between separate systems
Time to FPI is reduced as fewer vendors need to be mobilized and coordinated. Study start up happens in 4-10 weeks, not months. Close studies faster, as integrated data means no lag time due to manual tracking and excel file reconciliation.

Randomization, drug/device tracking, safety and other modules are fully integrated, allowing for a single sign-on and access to all study related data via one portal
Project Management/Sponsor
Improved Real-Time Study Metrics
More accurate monitoring reports, greatly increasing visibility to study data.

Better/real time oversight of deviations

Pre-programmed and ad hoc/customized reports
Simplifies Site and Vendor Payments
Fewer vendors to manage

Greater ease of site and vendor payments
Eliminates Error-Prone Manual Processes
Reduced manual tracking of study information

Reduced cost associated with SAE completion/greater accuracy

Randomization and drug inventory linked
Automated Notifications for Key Events
24/7 access to critical data, daily summary e-mails of the status of study, critical challenges, like enrolment targets not being met

Real-time smart notifications of events you want to focus on – randomization, drug/device shipment needs, cohort assignments, and SAE/safety events
Sites/Coordinators
Integrated tools make work easier
SAE/AE forms pre-existing, all data exists within eClinical Suite – time/cost savings, no double-data entry of linked data, such as Con Meds. Randomization can occur within the EDC system

System can generate dynamic forms for unscheduled visits
Fast training/easy to use
Sites train in under two hours, no programming knowledge is required

Intuitive, easy to navigate interface and modules allow for fast data entry and review
Central access to all study documentation
EDC portal allows central access to all study documentation

eTMF facilitates regulatory document package completion as well as study document archival
Well supported
Customer Care available up to 24/7 to support sites, based out of Toronto

Axiom's Customer Care team is familiar with your study and your specific eCRF
Monitors
Better oversight and study awareness
Better oversight, reporting, study awareness through integrated/real-time functionality

Less likelihood of enrolling ineligible patients as all relevant data is available in the system in real-time
Simplified review process with checklists
Checklists of monitored and monitored data simplify review process

Listings of records that are signed versus unsigned
Real-time Reporting
Protocol deviation, site visit activity and SAEs can be automatically transferred into monitoring reports

Better insight into site activities as well as data issues
Simple to use
More intuitive system, simple to use and navigate

Training is quick and easy, customer care is available up to 24/7 if needed
Safety Group
Greater Accuracy
More accurate data since information is entered once, from the site directly, rather than repeatedly
Review is simplified
Less time spent completing required documentation for regulatory bodies since the data is pulled from the system

Significant efficiencies / issue management integrated AE/SAE functionality
Integrated forms and reporting
Regulatory forms such as MedWatch fully exportable

Full SAE/AE tracking and reporting in real-time
Eliminates double data entry
No double data entry – SAE can be linked to existing AEs and ConMeds
Data Management
Automated Notifications and Customized data flagging
Integrated workflow identifies items completed and incomplete, system provides notifications of availability of data for review

Simplified review of data with customizable flags/colour coding of data (out-of-range/overdue/key information) throughout the system and in standard and custom reports.
Advanced Edit Checks and Integrated Coding
Integrated background edit checks allow for cross-form and visit assist in cleaning data rapidly and accurately

Coding is integrated allowing for easy coding in preparation for various uses, including DMC and CEC committee
Custom Data Trending
Data trending – Critical awareness of out of range data variables before data management even begins
Data Exports on demand/in required formats
Data Management export is suited for any desired biostatistical output

Data on demand allowing data dumps at will, without additional costs/delays
Upper Management
Reduced and More Predictable Costs
Ability to better control study costs, fewer additional change orders/unexpected billing items. Lower study cost overall. Multi-study savings.
Better Real-Time decision-making
More compliant study and more real time, integrated information and insight into study activities and issues, allowing for timely action to resolve problems and keep studies on track.
Better use of Staff/Resources
Automation of routine study tasks reduces the financial and task footprint within the organization – allowing more efficient usage of available staff/resources

Elimination of significant manual tasks, such as spreadsheets, and the associated costs/hours responsible for these actions. Automated tasks reduce possible manual errors.

New team members up to speed quickly and easily when turn-over occurs.
Fewer Vendors to Manage
Fewer vendors to manage and no vendor integration needs or costs.

Study launch is expedited, as fewer vendors need to be mobilized and coordinated. Faster study close out as integrated data means no lag time due to manual tracking/excel files being reviewed/analyzed.
eClinical Solution Comparison
Selecting a unified eClinical platform can solve your top study management challenges. Learn how in our published article from the 2013 Clinical Trials Yearbook 5 Key Benefits to a Unified eClinical Suite.
Better decisions. Shorter timelines.
Unified Technology. Unmatched Service.