Our Mission: Drive Collaboration via Real-Time Actionable Data
Separate vs

Truly Unified System
Lack of Integrated Dashboards
Critical data is stored across multiple systems.
Manage multiple vendors and data integration tools
Lack of consistent access to mission critical info
Potential technology integration issues
Higher study management costs and obligations
Data Fully Integrated on One Platform
Centralized data reporting on critical study factors.
Fully integrated modules with a single sign-on access
Centralized dashboards for critical data (enrolment, risk)
Seamless technology built completely in-house
Reduce study management costs and obligations
Delayed Data Reporting
Study data may not sync in real-time.
Data integration depend on vendor schedules and limits
Delays in reporting can impact critical decisions
Real-time and non-real-time data out of sync
Data access dependent on individual vendors
Multiple sign-ons required across tools
Real-Time Data Reports
All of your real-time study data, on demand, 24/7.
On demand direct access to real-time study data across modules
Real-time study and site activities for informed decisions
Inventory and randomization data available in real-time
Access data and reports from computer or mobile
Single sign-on and custom access levels for each user
Slower Study Start-Up and Close-Out
Potential delays in start-up and close-out.
Studies may take 4-6 months to start up
Timelines must be coordinated with multiple vendors
Slower close-outs with manual tracking and reconciliation
Faster Study Start-Up and Close-Out
Time to first person in is reduced.
Start-up your study in 30-90 days
Fewer vendors to coordinate and mobilize
Faster close-outs, all data is ready for review in one place
Extra Costs and Resources
Manual processes and managing multiple tools.
Complicated budgeting with multiple vendors per project
Coordinators required to learn and access multiple systems
Duplicate data entry for non-integrated data points
Costs of integrating data across tools
Multi-vendor negotiations for new projects
Lower Costs and Resources
Fully integrated platform with a single sign-on.
Flat rate, per-project budgets
Single sign-on access and 24/7 in-house support
Databases fully integrated across all modules
Eliminate data integration costs
Reuse study designs / components
Manual Tasks
Valuable time spent on manual reconciliation.
Manual tasks mean more likelihood of manual errors
Manually checking notifications across tools
Automated Tasks
Tasks are executed automatically across modules.
Automated tasks performed seamlessly and on time
All of your study notifications and alerts in one place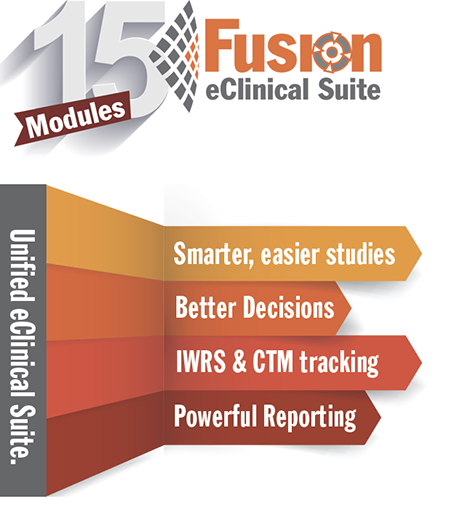 The Truly Unified Fusion eClinical Suite
Single sign-on access to all your Fusion modules.
Centralized access to the critical data in your studies.
Your study is unique. Choose only the modules you need.
Discover Fusion Modules
Better decisions. Shorter timelines.
Unified Technology. Unmatched Service.

Empower your next study with a truly unified system!
---
Fill out our demo request form below, or visit our 
Contact page
 for more options to reach us!
Sign up for our monthly Fusion Newsletter today! Get updates on:
+ The latest Fusion features and upgrades
+ Upcoming industry events and company news
+ Early access to our latest white papers, case studies and webinars