Fusion eTMF
Upload and manage all your documents with ease. Ensure your teams have secured, real-time access to all of your essential TMF documents.
The Fusion Advantage
Upload any file type with ease, with study-specific metadata support.
Set custom user permissions for individual files and folders.
Set files to expire on certain dates or times to sync with expiring licenses.
Use eTMF Health Reporting to monitor for completion and missing documents.
Ready to find out more? Book a demo today!
eTMF Home Screen
Easily organize and review your eTMF documents.
Folders organized by Study, Country, and Site
View document and folder approval statuses
List of action items and user-level notifications
Configurable reports and dashboards
eTMF Health Reporting
Get notifications and metrics on your TMF completion status.
TMF Reference Models for core and recommended documents
Replaceable blank placeholder documents
Missing documents notifications
Real-Time Access and Management
Ensure your documents are accessible and up-to-date.
Access and download files from any browser
Search documents / folders in real-time
Study-specific metadata support
Manage document expiry dates easily
Secure File Storage and Hosting
Your essential TMF documents are stored securely.
Secure document upload (any file type)
Secure document hosting / backup
Custom user permissions for individual files and folders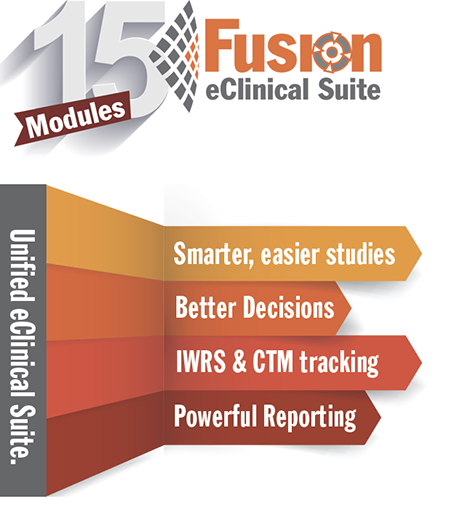 eTMF and Fusion eClinical Suite
eTMF module accessible with Fusion single sign-on
Assign permissions to different study roles
Be inspection-ready with all your study data on one unified platform
Discover More Fusion Modules
Better decisions. Shorter timelines.
Unified Technology. Unmatched Service.

Launch your eTMF-enabled study with Fusion!
---
Fill out our demo request form below, or visit our 
Contact page
 for more options to reach us!
Sign up for our monthly Fusion Newsletter today! Get updates on:
+ The latest Fusion features and upgrades
+ Upcoming industry events and company news
+ Early access to our latest white papers, case studies and webinars